Posted on
April 19th, 2012
by admin
Tweet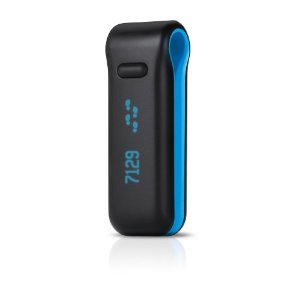 Click the FitBit above to take you to a store to purchase it.
First let me say I don't like exercise. I lost 80 pounds and have kept it off for over two years. That was my first journey and now I'm looking for activities I like to do to keep me in shape.
Recently I have seen a lot of talk about this new little pedometer the FitBit. People claim it gets them moving and working harder. I saw it in the Target flyer this week so I ran out and got one last night.
My first test was wearing it to bed. It tracks your sleep don't ask me how. It said I woke up 5 times and I walked 46 steps. As far as I know I never stepped foot out of bed so I don't know where the steps came from but I scored 98% on my sleep. There is a website where you track and enter info. You can set goals, list what you ate and it will track calories consumed and burned.
Well today just for fun I asked my husband to drive me up Rib Mountain so I could climb the look out tower and see how many flights of stairs it would track. To my surprise it even tracked the walk up the hill to the tower how does it do that? When I got to the top I had 18 flights of stairs. When I got home I had an email from FitBit. I earned my first badge.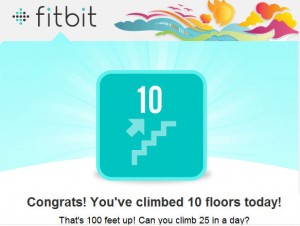 How cool was that. By looking at the site I found I could earn another badge for 25 flights good thing we have stairs in the house so I ran up and down them a bunch of times and I got my second badge of the day before bed.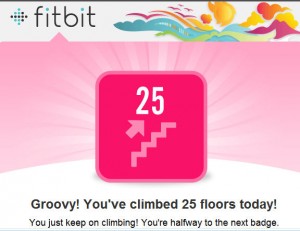 I did real well on my climbing 250 feet up. My total steps were only 4000 so far. They say you should aim for 10,000 per day. I'll have to work up to that. FitBit also has a social side where you can make friends and compare scores. On our weight loss site they are walking across the US as a team virtually with FitBit.
So my first day using the FitBit has been a success. I got in more stairs than I would have. I'm having fun learning all the tools on the site and I think it will be a great tool to make my daily activity measurable and fun!
Update before I went to bed I just had to get a steps badge for 5000 steps I was only a few hundred steps away so I went walking around the house up and down stairs in circles. Glad noone was watching and I got to 5000 steps. Here's my badge to prove it.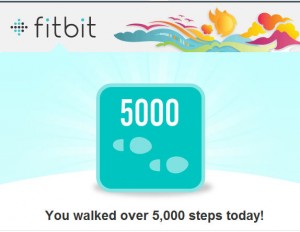 I never thought a little gadget likt this FitBit would have me walking all over the house at 11:30 pm just to get an email badge sent to me. Who knew something as simple as that could do so much?
If you would like more info on the program I used to lose 80 lbs and keep it off for over two years you can learn more on my site I'm Coach NatalieJo
~~~~~~~~~~~~~~~~
Filed under: Amazon, exercise, goal setting, New Gadgets | No Comments »